Hugo Vapor Poder Pod System – cobra style
The figure thirty-four loomed on the horizon. So many days, including today, continue our marathon "not a day without a new AIO". We stayed calmly for a month, and I think that we'll continue to keep up the pace.
The next step is a completely gray set from fans of "plastic" – the company Hugo Vapor. By the way, they completely forgot the way to the editorials of our portal – for a long time they were not visible. I already thought that they had completely resigned and had sunk into oblivion. But no, the smoking room is alive …
Hugo Vapor Poder Pod System

Dimensions: 108 x 30 x 10mm
Weight: unknown
Case material: zinc alloy + plastic
Power: built-in 500mAh
Cartridge capacity: 1.8ml
Evaporator resistance: 1.5Ω
Output power: unknown
Operating mode: POWER
Protection: against low / high resistance, from overheating, from short circuit, from overcharge / overdischarge
Connector type: magnetic
Screen / diagonal: no
Micro-USB port / charge: yes, charging current 0.5A
Color: see photo below

Options (probable)
– Poder Pod mod
– replaceable cartridge 2pcs (one preinstalled)
– USB cable
– user manual
– warranty card

The appearance of our hero is quite ordinary – perhaps there is nothing particularly memorable in him.

No, wait a moment. Designers hint to us that during the design they tried to give their creation the outlines inherent in a royal cobra. Well, well – I must admit, they got pretty similar. But users will like the idea that they put a snake in their mouth.

The color scheme, offered from the start, can not be called poor.

The replacement cartridge is slightly lower than the average capacity value; it will be refilled from the bottom. The resistance of the built-in evaporator is quite high, let's hope that they will be able to "serve" not only novice vapers.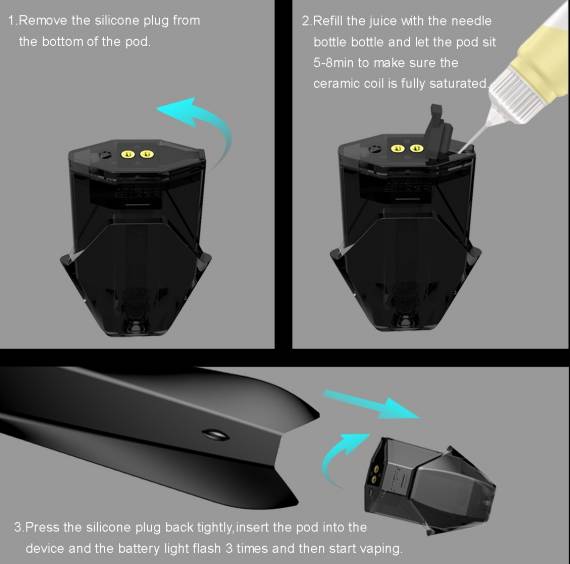 The main body hides a built-in battery, which is small in capacity, but it's forgivable to him, though – the form factor is somewhat specific. She was destined to charge for about an hour, the causal connector settled at the bottom of the device.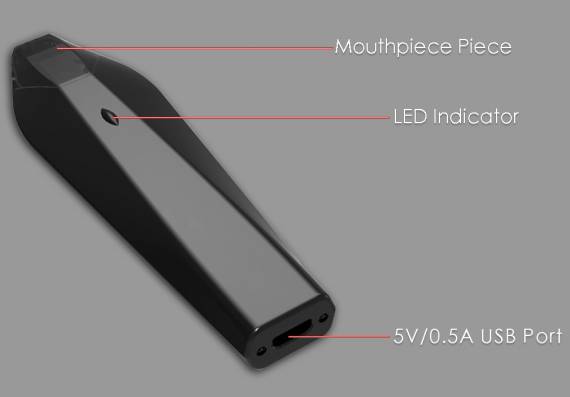 There are no fire buttons on the body – that means the device is activated by tightening. A small dot of the LED indicator settled exactly in the center of the front panel. She will tell the future owner about the state of charge of the battery.

The price is currently unknown, although the release took place quite a while ago.