Yachtvape Meshlock RDA – mesh plus button deck
Let us leave AIO sets alone, although new ones appear with enviable regularity. For now, I suggest taking a break and meeting newcomers to the vape market – Yachtvape. They settled, as usual, in the Middle Kingdom – the concentration of manufacturers in this place is simply incredible. Moreover, the guys did not begin to exchange for the starting segment, but immediately decided to jump from the ship to the ball and roll out the serviced drip boat as a pilot project, and even on the grid.
Yachtvape Meshlock RDA Hull

material: stainless steel Atomizer
type: RDA
Capacity: medium
Diameter: 24mm
Height: 26.6mm with drip tip
Connector: 510, pin gilded
Weight: unknown
Color: see the photo below.

Options
– Meshlock RDA
– additional drip type
– hex key
– tool for bending the mesh
– spare springs 2pcs
– mesh 4pcs
– cotton
– spare origins
– squonk pin (pre-installed)
– regular pin
– user manual
Packagecontents, it is worth noting , for beginners in the market is very much nothing.
The appearance is normal, the guys did not show anything supernatural. However, the decor did not spoil the novelty, which is already commendable. The latter should be attributed only to the traditional engraving on the sidewall, plus an original (but, of course, not new) decorated drip type.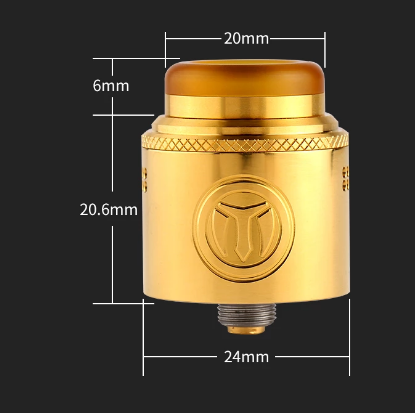 By the way, there are two types of drip in the box – one composite (pre-installed), and the second ordinary translucent. Both of them have an 810th landing.
By the way, the developers were not stingy with the colors – a gamut of six options.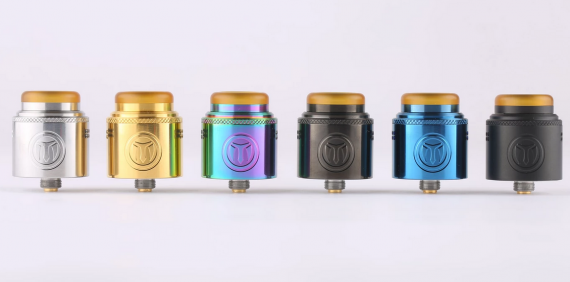 Next, let's move on to the top cap. Cone internal processing. On the sidewall there are two air inlets arranged symmetrically. Airflow adjustment is achieved by rotating the top cap relative to the side skirt. Risks are available for convenience.

The side skirt, in turn, sits on the deck rigidly thanks to the keys. Holes for air intake are also visible on its sides, however, they are already made in the form of a grill.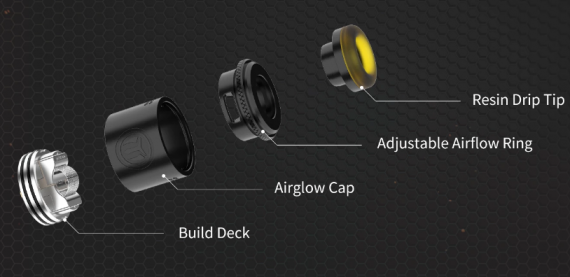 The deck looks familiar, but has its own characteristics.

Here we have two racks for fixing one grid installed in a standard way. However, the drip chip is the spring-loaded buttons on the racks. Installation becomes very simple – they pressed the buttons at the same time with the fingers of one hand, after they installed the grid, released the buttons – that's all. However, I do not think that such a trick will take place with ordinary coils – it is unlikely that such a construct will fix them reliably enough. There is enough space for laying cotton wool.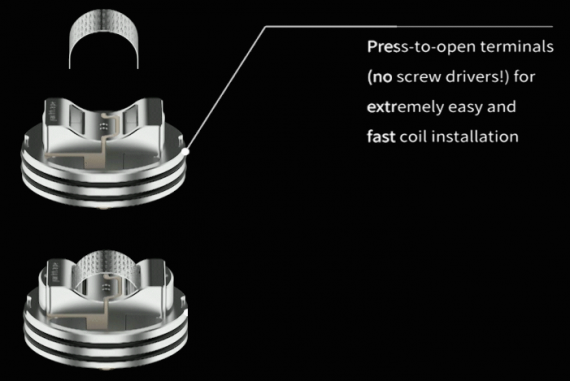 The capacity of the bath is not the largest, however, knowing the gluttony of the grid, the developers complemented their creation with the possibility of squonk use. Moreover, the liquid enters, both from below, feeding the ends of the cotton, and directly beneath the middle part of the cotton.