Based on the cult movie of Hollywood. Vertex Predator RDA from TBM
Hello again, dear vapers and connoisseurs of delicious electronic steam. Today I would like to share with you a fresh idea, fresh groundwork from the Philippine guys who introduced the next drip atomizer to the viper community, which might interest someone, and someone might really think about buying this device. It so happened that manufacturers very often call their models based on the cult films of TV shows. Big names, interesting design, all this is of interest to the community, and someone is being led to such provocations, and someone just passes by, but it is and will be and this is not only happening in the vaping industry. Our main task is to quickly acquaint you with all the newcomers. Today our guest is TBM(most of you may know it as The Boss Mod ), which, following its good and high-quality mechanical mod, has released an atomizer of its own design that perfectly complements the mod, these devices look very nice and harmonious in a pair, if we leave the mod for later, then all of our attention today will be devoted to the atmosphere called Vertex Predator.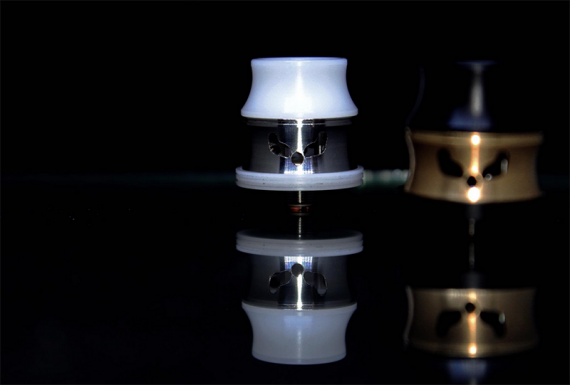 First, I want to introduce you to the presentation of the device. Since this is a stylization for a film, we immediately see an image of a predator on the packaging. On the side you can read the name of the model itself. The atomizer is packaged in a small plastic container, as it is small in size. Through transparent plastic, you can immediately see the atomizer itself. In the kit, in addition to the device itself, you will find a small warranty card, a bag with spare o-rings, screws and other tools for maintenance, and there's an additional bonus – in the kit you will find a decorative (visually expanding) ring.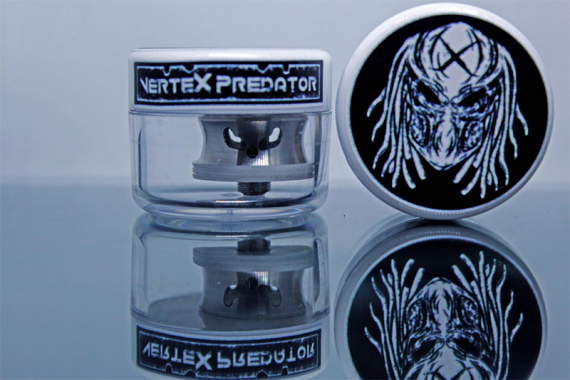 Well, now let's take a look at the appearance and design of the device. The fact that the materials are selected competently, I think it's not worth talking about it. Stainless steel and heat-resistant plastic are the two main materials used to create this model. On the cap, you can see the air holes that are stylized as a predator's helmet from the movie, the wide drip tip at the top of the atomizer hints that this model is more designed for bulk than for revealing the taste of the liquid. Several models are available for selection in different color schemes, in the photo below you can see the available options for purchase. The diameter of the model is 24mm (with a decorative ring it expands to 25mm).