Geek Vape Frenzy kit
Visiting me today is a very interesting set, which I was looking forward to. The stake on him was great, and looking ahead I can say that he justified it in full.
Dimensions: 86 x 37 x 16.5mm
Weight: 90g
Case material: zinc alloy + resin
Power: built 880mAch
chipset: AS Micro Chipset
cartridge Volume: 2ml
evaporator Resistance: 0.7 / 1.2Ω
Mode: POWER
Supported resistance: 0.7 – 3.0Ω
Protection: against low / high resistance, against overheating, against short circuit, against overcharge / overdischarge
Connector type:non-magnetic
Micro-USB port / charging: yes, charging current 0.93A
Color: see photo below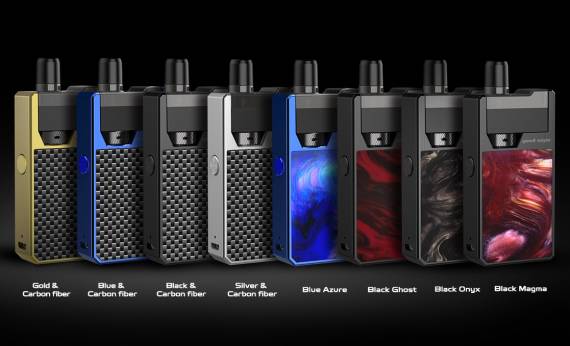 Options
– Frenzy mod
– replaceable cartridge (preinstalled)
– replaceable evaporator 2pcs. (one preinstalled)
– USB cable
– user manual
– warranty card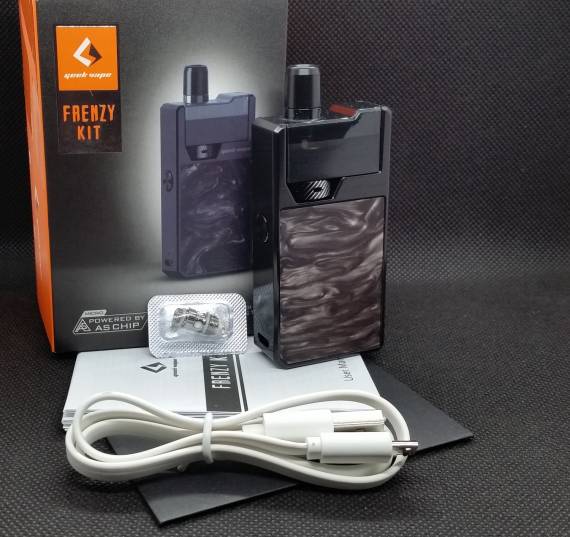 The appearance of the guest is decent. It is executed qualitatively, the form factor is now very popular. Metal case – this adds weight, but inspires greater confidence compared to plastic whistles. In addition, all this metal is diluted with resin inserts – in my case it is a dull, even business-like, panel that looks like a case of grandmother's glasses. In general, a decent bow is suitable for both office plankton and a representative of modern youth.

Removable cartridge standard capacity. The plastic is translucent, however, the level of the charged liquid can only be seen in the light. It is crowned with a drip type from delrin; it is non-removable. The length is comfortable, the diameter of the inner hole does not allow condensate to feed the owner – everything is fine with it. I did not have a desire to replace it, although I am a lover of flat specimens.


Refueling is carried out through a small, but duplicated hole. This procedure is not to say that it is completely problem-free, but on the whole I have no complaints – you can even handle a thick nose of the bottle. The whole thing is hiding behind a plastic plug, but I liked it – it fits snugly, there is a strap for opening, the filling holes are recessed below the sides – just five for such a design.

There are two types of built-in evaporators, one of them is made on a grid. Their replacement is possible even with more than half full cartridge. They simply screw into the connector, which in turn is fixed in the cartridge with something like a bayonet mount. This connection is bezor-free – it naturally alerted me, but in two weeks of testing I did not see a single drop of liquid or condensate there – this is truly a miracle. Rather, the slurry with enviable regularity appears under the filling cap, but I will not write down the number of its meager therefore in minuses, of course. By the way, I live in a cartridge; coils are drank to the end, which is commendable.

As you know, the higher resistance evaporators have a "click" NS coil. These were the ones that were offered complete with the Flint kit from geeks. And although outwardly they look like two drops of water, for some reason the Flint ones refused to work here. So, by the way, separately purchased shifts look like – about $ 8 for five pieces. It seems quite humane.