DRAM 2 Mtl RTA from Karadagis, with interestingly implemented racks and old-school design
Good evening, dear vapers and connoisseurs of delicious electronic steam, all those who first looked into our reviews and all those who are constantly looking for and following the appearance of new models in the industry. Today we will talk about the tank, about the tank of the Mtl formatwith an old-school appearance and an interestingly designed base, where you should pay special attention to the structure of the racks and placing your windings on them, this tank is not suitable for super fat "pornoil", but it will cope with ordinary windings from one type of wire with a bang. Such models were popular in the past, now nobody practically pays attention to such tanks, but still there is a group of vapers who like such constructs, and this tank will surely please you with its taste features. If you do not need huge clouds of steam, and the taste is in the first place for you, then this model may be of interest to you, or maybe someone will even order it in order to fully and individually test the performance in practice. Well, here is the DRAM 2 modelfrom the company Karadagis.
Well, for starters, let's take a look at the presentation and packaging of this device. The atomizer is packaged in a small wooden box, this package resembles a gift set, and it can be safely presented to friends or relatives. The logo and name of the model are burnt out on the box lid, the hinged lid on hinges and with a special lock. Such a box can even be used as a box, however, its size is not large at all. What is in our box? Well, of course, the main component of the configuration is the atomizer itself, also in the box you will find the standard repair kit inherent to all atomizer models (in the z-bag o-rings, spare screws, pin, and so on). Also in the box you will find a warranty card, everything on this issue is closed with a complete set.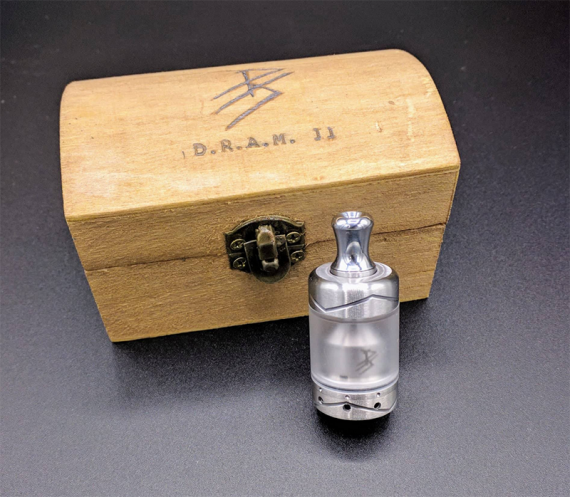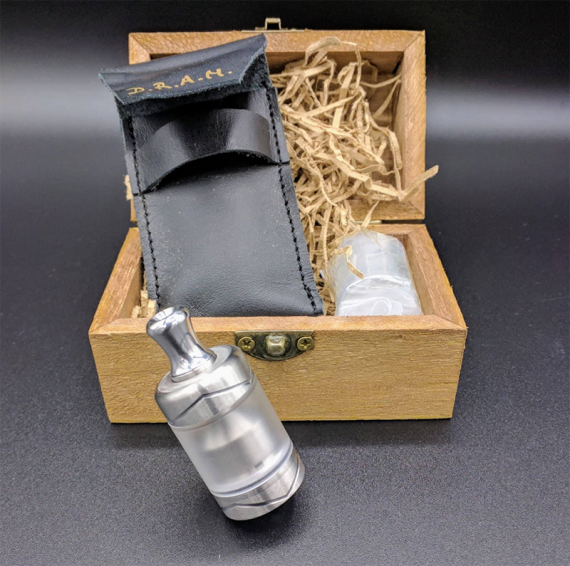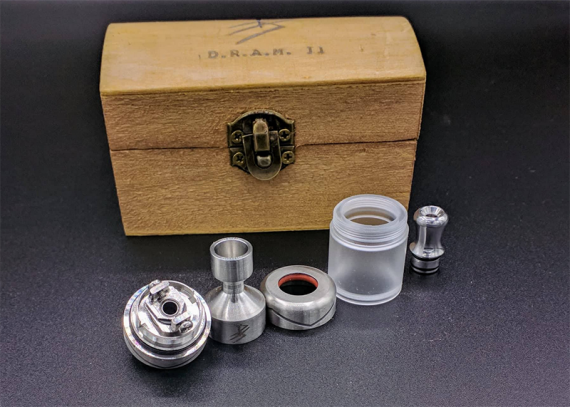 Well, what can I say about the appearance of the device. This is a kind of old-school tank with small dimensions, with a 510th drip tip, with a tank capacity of only 2 ml, with a stainless steel structure and a transparent tank made of heat-resistant plastic. But still there are some points that are worth and should be paid attention to. When you first get acquainted with the atomizer, curly geometric engravings in the form of zigzags on the top and bottom of the atomizer immediately catch your eye. The diameter of the atomizer is only 22 mm, that is, manufacturers immediately hint to us that this model will not be appropriate for huge battery packs, but still do not forget that this tank is not in order to release huge clouds of vapor, it is a tank for cigarette inhaling and maximum taste transfer of the filled liquid.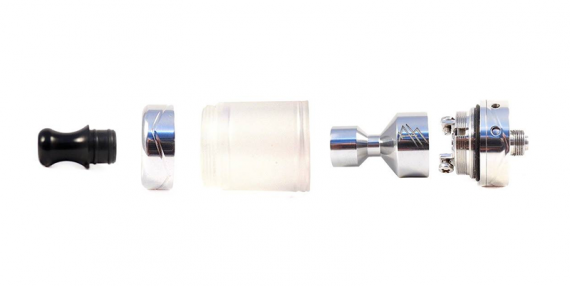 Well, the most important feature of this model is the structure of the base itself. Here we have in the center a huge wide opening for supplying air from under the platform with the ability to regulate traction. Pay attention to the racks, as I said, modern windings here will be inappropriate, but ordinary spirals will perfectly fit this arrangement and structure of the racks.