Dead Goat RDA – Now they have killed the goat
Surely an extraordinary instance called Goat RDA was imprinted in your memory . If you have forgotten, I'll remind you – this is a drip with a removable deck, and the latter is equipped with pre-installed spirals and cotton. Therefore, it is partly removable, but as if disposable. Well, you know for yourselves – vapers are lazy people, it turns out at the exit a kind of non-serving staff.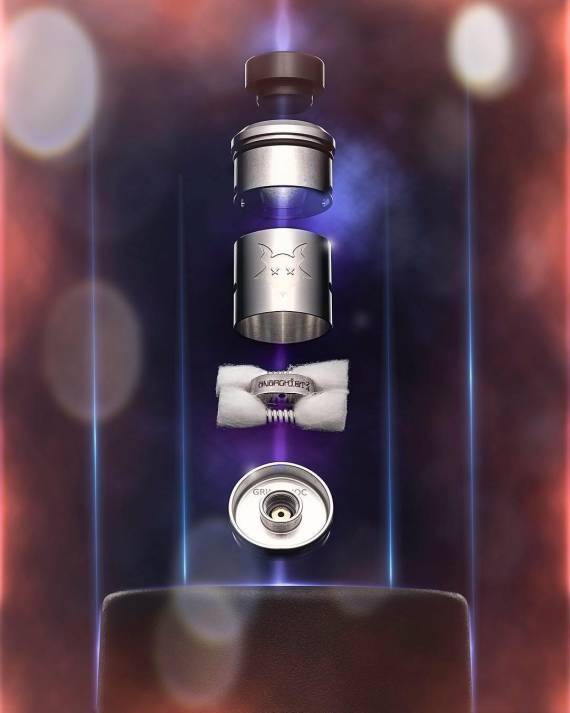 I also remind you that the famous vape personalities Grimmgreen and Ohmboyoc acted as the ideological inspirers of this project . Only now they were joined by another notorious comrade Vapin_Heathen . As you recall, the latter was the ideological inspirer of a series of dead rabbits, which in turn became incredibly popular around the world.

I assume you have already guessed what the salt is. Yes, that's right – after the rabbit, they decided to kill or kill the goat))) If no kidding, then the goat really became dead, having received the corresponding postscript in the name and an additional deck inherited from the dead rabbit. Although, it should be noted, for some reason the "promised" famous ears of the goat were not painted on a new one)
Meet the Dead Goat RDA , as you know, the dimensions have not changed much)))

Case material: stainless steel
Atomizer type: RDA
Capacity: medium
Diameter: 24mm
Height: unknown
Connector: 510, pin is gold-plated
Weight: unknown
Color: only steel version
Options (probable)
– standard Goat base
– standard skirt with top cap and drip type Goat
– deck Dead Goat
– skirt with top cap and drip type Dead Goat
– deck with preloaded spirals and cotton Goat 2pcs
– spare origins
– spare screws
– squonk pin
– user manual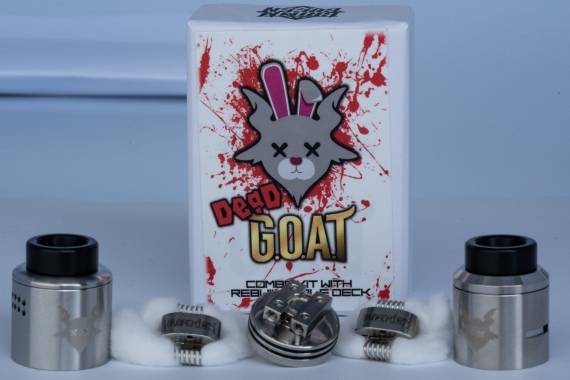 So, changes to the face – a new, but already familiar and very convenient removable deck.

Plus, the top was also updated, only the base remained unchanged. So the novelty gets another top cap with a side skirt, the air intakes of which are made in the form of a mesh.