Da one AMO19 starter kit – not without reason in gray painted
Well, I propose to polish the day with a completely boring starter kit from Da one tech. These guys are familiar to you firsthand – they have already secured a normal assortment, but it consists entirely of AIO and kits for beginners. I will not particularly strain your brain – we will go over the tops. By the way, a small spoiler – today for dessert I have prepared a very interesting copy for you. Thus I am rehabilitating myself for this "gray" article.
Da one AMO19 starter kit

Dimensions: 107 x 19mm
Weight: unknown
Case material: stainless steel + plastic (likely)
Power supply: built-in 1100mAh Tank
capacity: 2ml
Evaporator resistance: 0.8Ω
Output power: unknown
Voltage range: 3.7V
Operating mode: POWER
Protection: against low / high resistance, from overheating, from short circuit, from overcharging / overdischarge
Screen / diagonal: no
Micro-USB port / charging: yes TYPE-C, current Charging unknown
Color: see photo below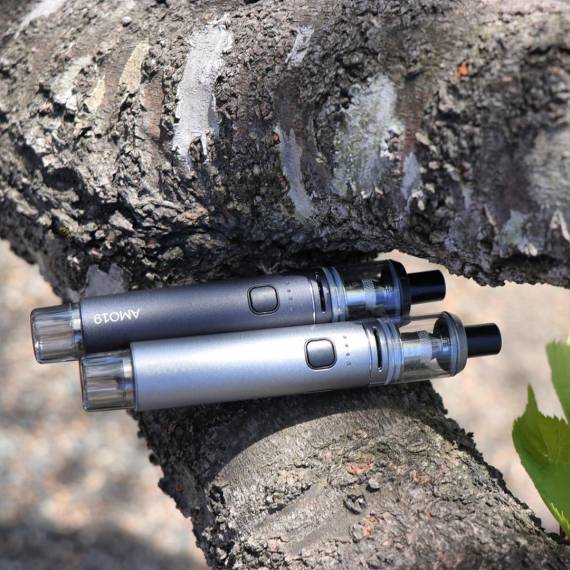 Package
Contents – AMO19 starter kit
– replaceable cartridge 2pcs (one preinstalled)
– USB cable
– user manual
– warranty card
The set looks completely uninteresting, probably, therefore you will not find it on the shelves of even the most famous trading vape platforms. We start with the tank, and this is what it should be called, since it is integrated into the mod.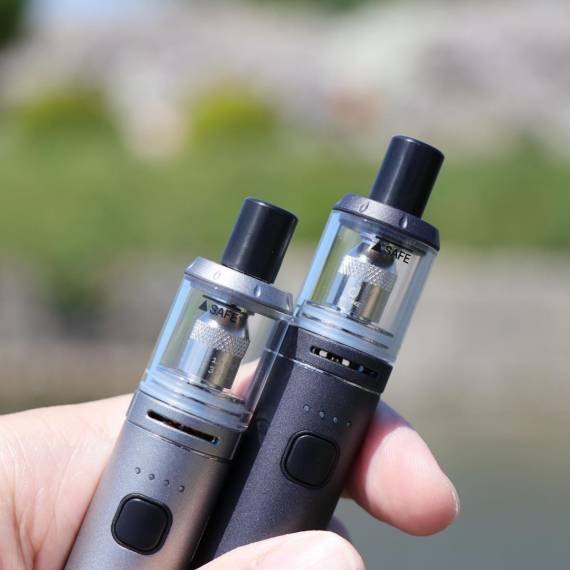 It is refilled from above, for this you have to unscrew the lid. That's just the glass remains to stay only on the origins – obviously not the best solution. Capacity is standard.

Replaceable evaporator of only one type, and the resistance is not acidic. The most interesting thing is that the developers plan to "execute" both mtl and dtl on it.

To do this, even adjustment of the puff was provided at the very base of this pseudo atomizer.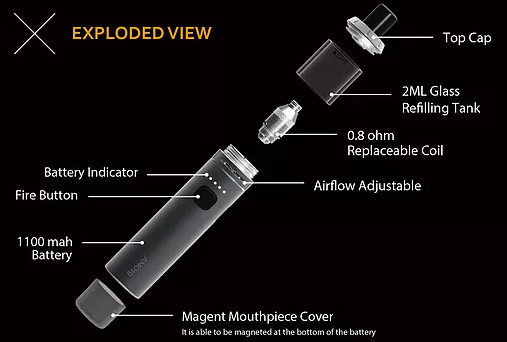 The mod directly hides in its gut a medium-sized built-in battery. The charging current remains unknown, but the TYPE-C connector, with all its appearance, hints that this operation will not take much time. Positioned it on the sidewall.

The central place is given to the fire button, it is quite large, a little protrudes outward. Directly above it, a strip of LED indicator of the battery charge level settled.

Among other things, the developers have provided a hygienic cap, and even on magnetic fixation.

Unfortunately, I did not find the current price tag. As well as relevant offers in the most popular stores.