Artery PAL 2
Due to my particular interest in compact "all in one" or starting devices – AIO – I was looking forward to this meeting with special impatience. I have long liked the products of this brand, but most of all I was interested in this particular relatively new instance.
Artery PAL 2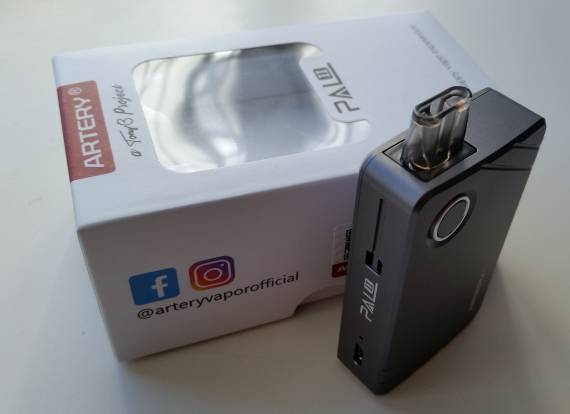 Dimensions: 83 x 43 x 17.7mm
Weight: 70g
Case material: aluminum 6063 + plastic
Power: built-in 1000mAh
Cartridge capacity: 3ml
Evaporator resistance: 0.6 / 1.2Ω
Voltage range: 3.2 – 4.2V
Operating mode: POWER
Protection: against low / high resistance, from overheating, from short circuit, from overcharge / overdischarge
Connector type: non-magnetic
Micro-USB port / charging: yes, charging current 0.8A
Color: see photo below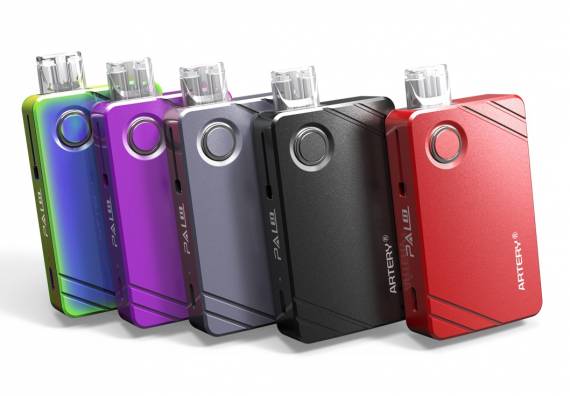 Options
– PAL 2 AIO
– replaceable cartridge (one pre-installed)
– replaceable evaporators 2pcs 0.6 / 1.2Ω (one pre-installed)
– spare origins
– replacement silicone plug
– USB cable
– user manual
– warranty card

The first impression is when you take this device in your hand – a class. Compact, neatly tailored, without vulgar decor and other crap, nice to the touch and very lightweight body. In his hand he lies perfectly, the side faces are slightly cut for convenience, in my middle palm he hides completely. It looks, as for me, simply perfect – strictly and "minimalistically", but at the same time quite nice. By the way, varnish looks quite reliable, however, the service life is not so long yet.

I'll start, perhaps, with the main element – the fire button. It is small, but quite sufficient, made of the same aluminum. It is located in a small depression, it is easy and finger, and any, on it lies very well. The move is medium or small, the click is pleasant and quiet, but distinct. She hangs a little, but this is almost inaudible. To manage with her thanks to her competent location is very comfortable.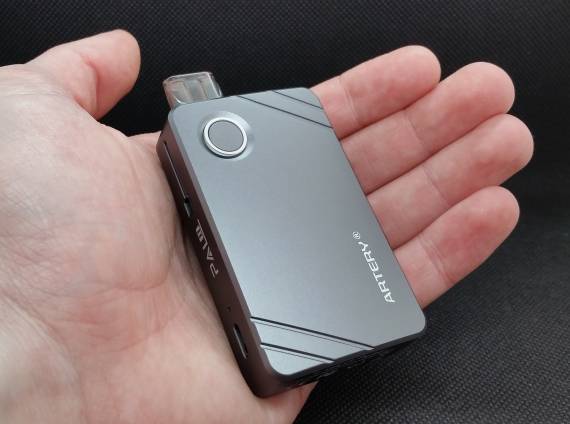 The front end is rich in air intake, and it is designed so that even if you close it with your finger, the "suction" will remain – a special vertical groove. Unfortunately, the developer did not provide a standard mount for the lace, however, it is through the above holes that you can fix the latter on the device absolutely painlessly. Below you can see a small dot of the average brightness LED indicator, which reports on the current battery charge. By the way, the latter, as it seems to me, is decent for such dimensions of capacity, and the full charge cycle does not last so long – just over an hour. It is possible to soar when charging, and this is great news. The connector for these purposes flaunts at the very base of the box.

The removable lid leading to the belly is fixed with four magnets. On the new version, by the way, the magnets on the case are hidden under plastic. The lid holds perfectly, but there is a slight backlash, this can annoy someone. At the bottom there is a small "undercut" for a more comfortable removal of the panel.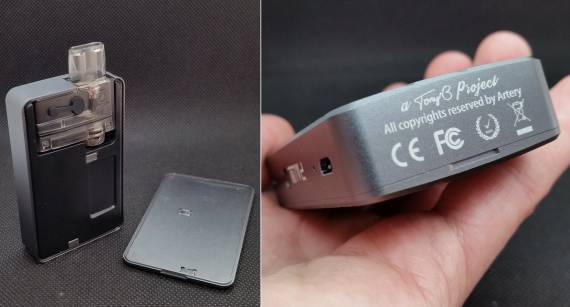 We get inside, but before that a few words about the mouthpiece or drip type. Probably, not everyone will like the lack of the ability to install their instances, as on eminent analogues. But in defense I want to say that the staff is convenient and comfortable, but neither give nor take – what is needed. The cartridge is fixed with a special key and sits very securely. Below it is pressed by a spring-loaded contact group. It can be removed without problems – you just need to put a little pressure on it from above.

The inner surface of the airflow openings, of course, collects a little condensate – not at all critical.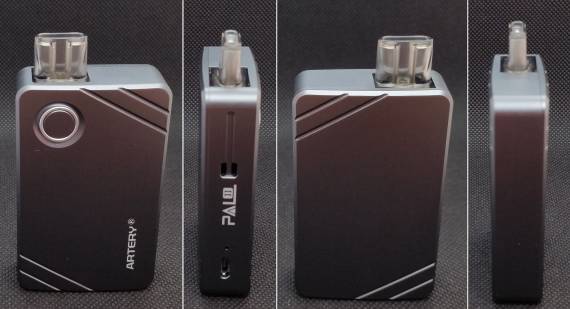 The cartridge itself has a decent capacity, the filling hole is not small, it is clogged with a silicone plug. The refueling procedure is comfortable – you can at least insert the nozzle inside, at least drip or pour if it does not fit there. The bottom level is such that it allows evaporators to finish the slurry to the end.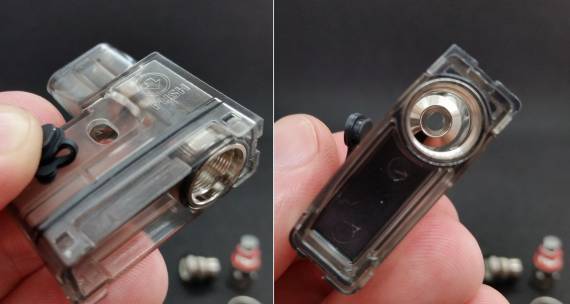 The cartridge is fully collapsible, which allows you to change only the evaporators, without having to buy a new cartridge. All the elements are "laid" by the orings, therefore, during the use I did not have a single leak.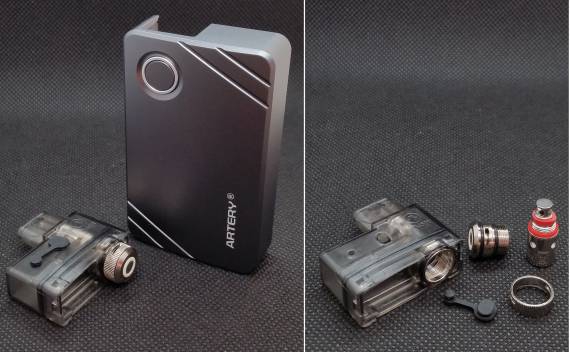 In addition, the developers provide for the adjustment of airflow with a special ring with risks. Yes, it is small, but it's comfortable to manage it, and you often don't have to. It is removable, there is a stopper. I'll immediately notice that even through these holes there were no leaks in any position of the device. The holes of the fence are small, but they are paired. Therefore, you can adjust the MTL puff, but you will have to cover the airflow to a minimum. On fully open holes, this is not the loosest, but still tightening. We get excellent variability. By the way, it is completely possible to block the airflow, however, air leaks remain.

Accordingly, evaporators are presented in two types – under saline nicotine and under ordinary (we call it this way). The first is an ordinary spiral, but the second is executed on a grid. It's time to talk about flavor. She completely satisfied me and on both options. Probably, this is not the most delicious of AIO that I had a chance to try, but quite worthy. I think the whole thing is in the arrangement of the spiral, for the most delicious items, as a rule, had a horizontal arrangement of the coil. But I repeat again, in order to dispel your doubts – the taste is good.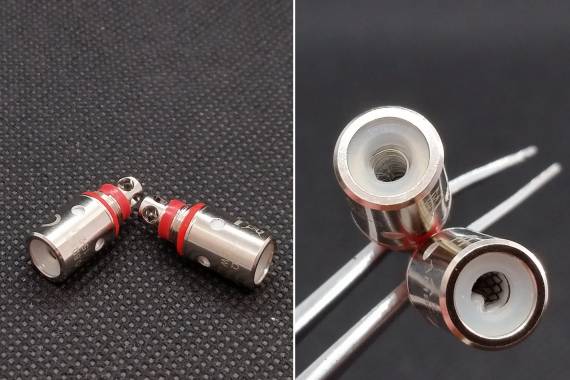 I'll step back a bit and talk about my experiments. I tested the largest resistance evaporator (and still use it) under salt nicotine. Pleasant impressions – the steam is quite saturated on the covered airflow, the taste is in order. To the second cartridge (it is not included), paired with a lower resistance vaporizer, I assigned the role of an ordinary tobacco vaporizer with a strength of 6, which I drive on serviced cigarettes. And to my surprise, I was also pleased. The taste is not as much as in the latter, but the quality of the steam and the overall level of soaring are excellent. We get decent versatility – two cartridges – two different evaporators – two different liquids inside – a class.

Now a little about sore – about shifts. You may not need a second cartridge, of course, if you do not plan to use two different liquids or evaporators at the same time. Otherwise, the cartridge is easy to disassemble and wash. So, the lowest price tag I found for it is $ 3.5. Included with the cartridge you will find a couple of spare orings and an additional plug. Replaceable evaporators of lower resistance will cost $ 7.3 for five, while others will cost $ 4.8 for five. It seems to me that this is a very modest price tag, in which you should not even think about the hypothetical rewinding of evaporators yourself.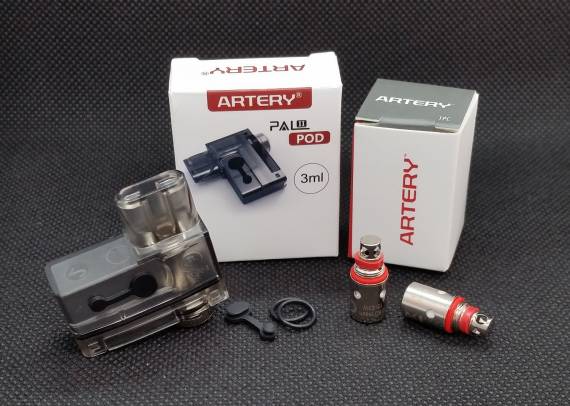 There are absolutely no complaints about the chipset. Paired with evaporators, the resistance of which is selected, in my humble opinion, he behaves well with dignity. The amount of steam gives a decent, perhaps on a mesh evaporator the steam is a little hotter, but not critical.

Impressions of use
I was very pleased with this set. Well, he is good for everyone – both appearance, design, and cost. Apparently, everything that Tony Brittan puts his hand to is doomed to success – this has become, perhaps, his calling card. This time I will not even highlight any positive aspects, because there are quite a lot of them.