Arctic dolphin Elux Nano kit – another clone in the piggy bank
Well, here we got to a quarter of a hundred – 25 days. That is how long our non-stop marathon has been going on under the slogan "not a day without a new AIO kit." He continues to give us new devices, and with them pleasant feelings for the soul and not especially pleasant for our wallet.
Today we have a rare guest – Arctic dolphins. By the way, if you are not in the know, then such a "look" really exists, but it's completely unclear what relation it has to our manufacturer.
Arctic dolphin Elux Nano kit

The official release has not yet taken place – for some reason, the company is still pulling the cat for a causal place with this case. Although they showed it to the public at the beginning of May – at an exhibition in Italy.
Dimensions: 76.5 x 42 x 15.5mm
Weight: 62g
Case material: aluminum alloy + plastic
Power: built-in 1100mAh
Cartridge capacity: 2 – 2.8ml
Evaporator resistance: 0.8Ω
Output power: 5 – 30W
Operating mode: POWER
Protection: against low / high resistance, from overheating, from short circuit, against overcharge / overdischarge
Connector type: magnetic
Screen / diagonal: no
Micro-USB port / charging: yes, charging current is unknown
Color: see photo below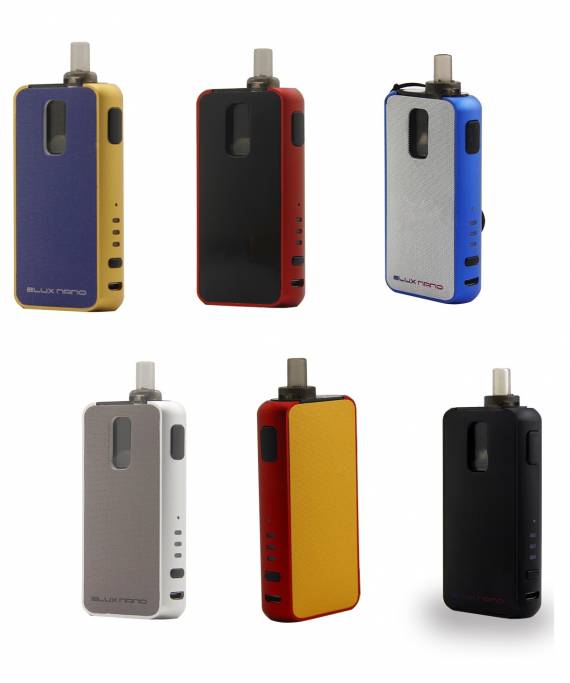 Options
– Elux Nano mod
– replaceable cartridge (preinstalled)
– lanyard
– USB cable
– user manual
– warranty card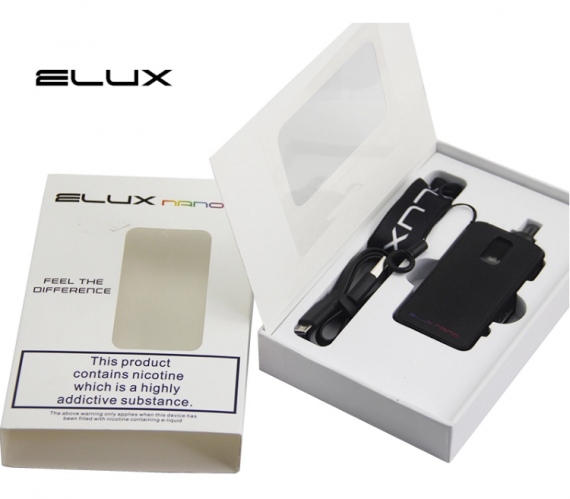 Appearance is pretty nice – rounded corners, lightweight aluminum case, which has become a traditional form factor. Well, everything is with him. Dimensions, by the way, are small – you can definitely count on some stealth for future owners. By the way, the color scheme proposed from the start is quite entertaining – here you have a classic too, however bright combinations prevail.

A replaceable cartridge of standard capacity, however, developers report that its capacity is either inaccurate or varies depending on something. It will probably be refueled from below. A window for monitoring the liquid level is provided.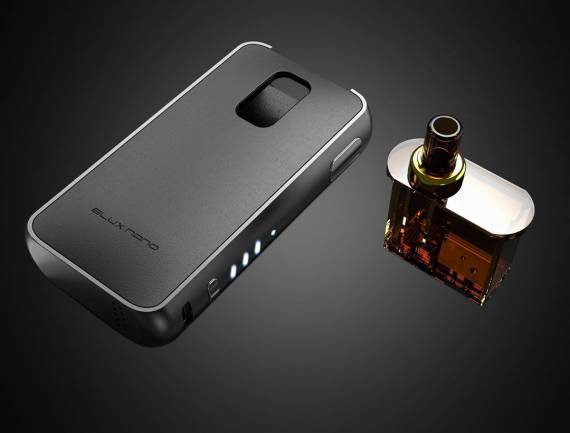 As I understand it, the evaporator is built-in, and its resistance is "good" – less than one. Also supposedly at the top there is an airflow adjustment. The cartridge is probably latched.

The main body hides inside itself almost standard battery capacity. However, the charging current was not disclosed – it is unlikely that the full cycle will take more than an hour.

The control panel occupied the entire front end. Crowned by its large outstanding fire button. Just below the bar of LED indicators. At the very base of the slot for charging the built-in battery. But just above the output voltage control button – there are three modes in total.