Stratum 0 Prestige Mini – Elegance with a prefix mini
Well, for a snack I propose to go galloping for a rather interesting novelty. You probably remember the trinity of stylish pipe mods of the Stratum zero series . I believe that yes, because you will not forget this. This elegant trinity is not only distinguished by its original appearance, but also by the corresponding price tag.
Probably succumbing to the newfangled trends of the vape market, the development company rolls out a mini version. After all, summer is in the yard – it's time to get the most compact devices from the mezzanines so that the latter do not pull your colorful shorts on the shores of warm seas to the ground …
Stratum 0 Prestige Mini

As usual, the developers were not particularly willing to share information regarding their new products, I suggest being content with what we have.
Sizes: unknown
Weight:unknown
Case material: stainless steel
Power: 1 x 18350
Chipset: OLC Mosfet v2.0
Operating mode: POWER
Supported resistance: unknown
Protection: against low / high resistance, from overheating, from short circuit, from incorrect polarity
Connector type: steel 510, pin is gold-plated, spring-loaded
Screen / diagonal: no
Micro-USB port / charging: no
Color: only steel
Options
– Stratum 0 Prestige Mini mod
– adapter for atomizers at 22mm in diameter
– "origins" for a 2pcs battery
– user manual
– warranty card
– wooden "gift" box
– cover for batteries of size 18350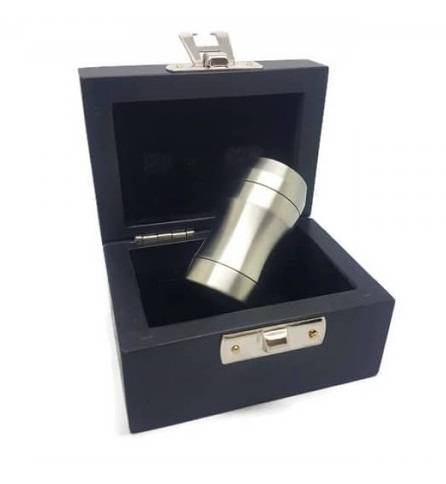 Our guest does not look much different from their fellow tribesmen, or rather predecessors. It is understandable – after all, the corporate style in which it is executed has definitely sunk into the soul of lovers of the beautiful, aesthetic vape "junk".

The fitted case, the luster of the metal – well, everything is with it.

The connector is naturally non-hybrid, the landing pad is ready to accept 22mm atoms in diameter. Immediately below it is the already familiar "coin" of the control chipset. As I understand it, the model is absolutely identical to its predecessors.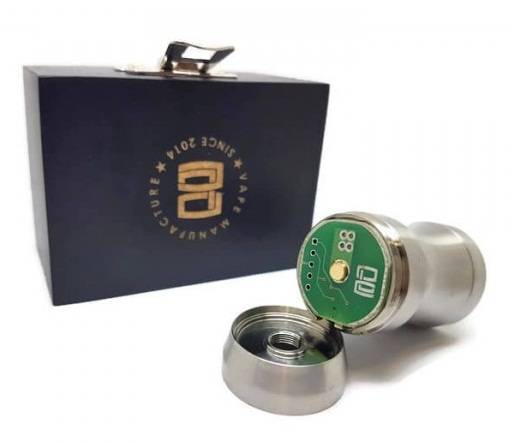 The fire button is made in a very elegant manner, but we have already seen it. It's good that the developers did not come up with a bicycle.

Access to the battery compartment from the bottom. The lid is twisted, there is no risk, otherwise they would have completely ruined the appearance.
By the way, now, the size 18350 can be used as battery power. Moreover, there are two o-rings in the box specifically for this. Discharge the latter, according to the creators, the mod is promised up to 2.65V.