Dotmod DotAio – own vision of a boxing ticket
The twenty-sixth day of our marathon gives us a novelty from one of the most "pathos" manufacturers even for the western market. As you may have guessed correctly, this is Dotmod. Her releases always attract the attention of the vape public. And this time, it seems, the situation is not going to change. Looking ahead, I'll say that there is enough interesting here, although most of these solutions are far from new.
Dotmod DotAio

Dimensions: unknown
Weight: unknown
Case material: aluminum alloy + plastic (probably)
Power supply: 1 x 18650
Cartridge capacity: 2 ml (probably)
Evaporator resistance: 0.3 / 1.6Ω
Output power:unknown
Operating mode: POWER, TC
Protection: against low / high resistance, from overheating, from short circuit, from overcharging / overdischarge
Connector type: non-magnetic
Screen / diagonal: no
Micro-USB port / charging: there is USB-C, charging current is unknown
Update / firmware: yes
Color: see photo below

Options
– DotAio mod
– drip type 3pcs (one preinstalled)
– replaceable cartridge evaporators 2pcs 0.3 / 1.6Ω (one preinstalled)
– USB cable
– user manual
– warranty card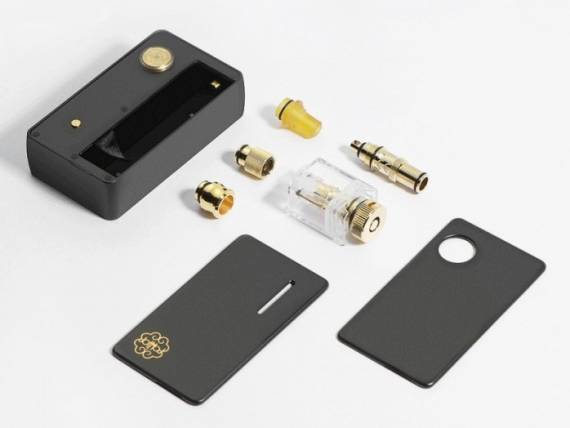 The exterior is made in a corporate style – you will not confuse this product with anything else. Here is an example of a real "author's brush". Again we have a rounded soap box. Again, everything looks strict and prim – even the logo and the familiar profile of the fire button. Minimalism and simplicity, and the bottom line is a decent bow.

From the start, four variants of execution are offered at once, this is quite good, knowing the developers' dislike to launch several colors at once.

Crowned by a set of drip type, landing 510th. Moreover, it is also presented in triplicate – one of the ultem, two other steel.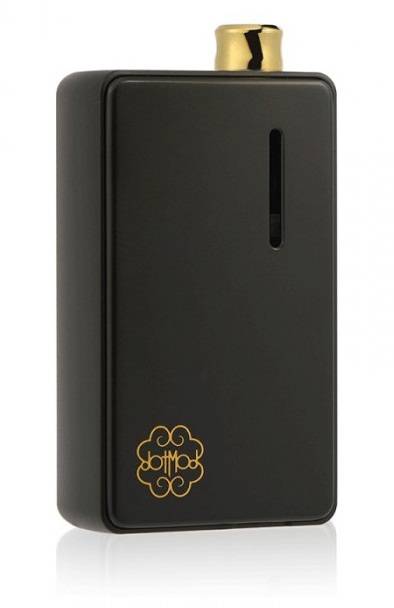 We look at one sidewall and we see a slot for controlling the fluid inside the cartridge, the capacity, by the way, is unknown – probably 2 ml. End cap on the sidewall – you can refuel without removing it from the housing.

There are two types of replaceable evaporators; one of them is executed on a grid. Naturally, airflow adjustment is provided. It is also known that they are interchangeable with analogues of Aspire Nautilus and EC2 Eleaf.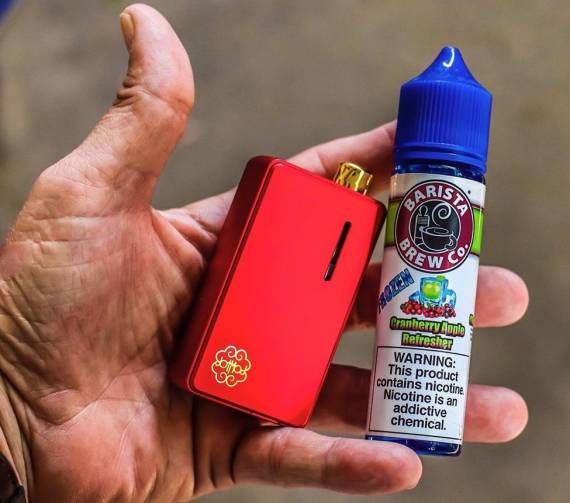 On the opposite side you can see the fire button immediately recognizable, it is not small, it is surrounded by an LED indicator. There is no exact information, however I met mention that with its help it will be possible to change the output voltage, while another source reports that the mode itself will automatically change it depending on the evaporator used. However, both sources agree that there is a thermal control mode (naturally primitive) that will protect the evaporator from drive hit.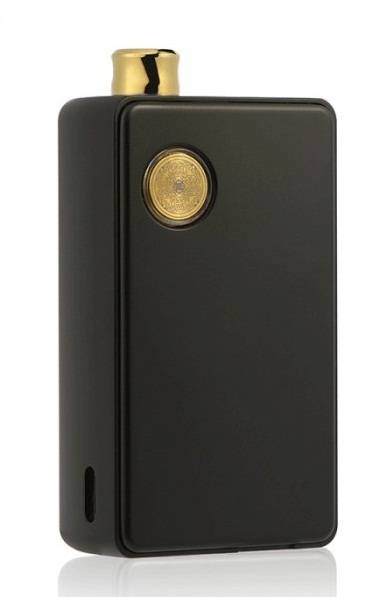 Well, now, perhaps, the most interesting is the battery. Here it is external, and the size is the most common. Therefore, at the output we get something like a boxing ticket. A ribbon for convenience is available. In addition, an even faster charging via the device is provided – the connector "shows off" at the front end.